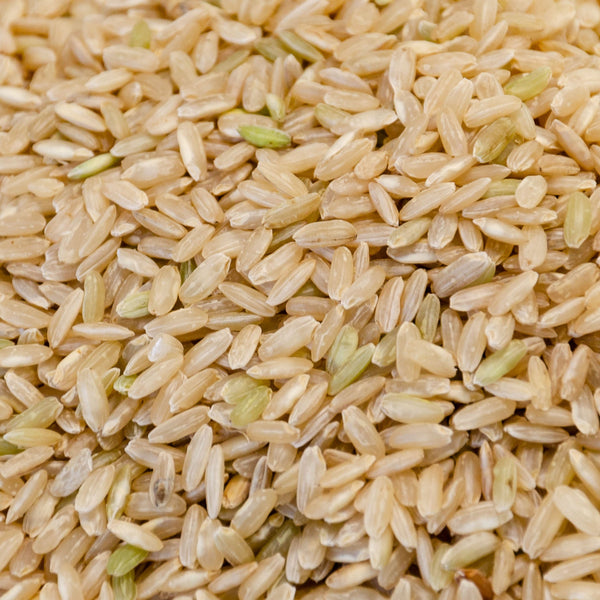 Integral Baldo rice in glass jar - 480g
Baldo brown rice, thanks to its limited processing, is rich in fiber and beneficial properties. Thanks to the nutritional principles of cereals, it is ideal for preparing risottos and other dishes that combine the taste and beneficial properties of whole grains. It contains both the bran and the germ of the grain, which help to maintain all the most nutritious parts of the rice.


Characteristics
Absorbent power : Baldo brown rice absorbs seasonings in an optimal way, for those who, in addition to wanting to eat healthy, do not want to give up on taste.
Rich in nutritional properties : brown Baldo rice is rich in beneficial properties typical of whole grains, such as fiber and antioxidants, as well as vitamins and minerals.
In this package you will find a 480g jar of our rice.

Why exactly 480g? The recommended portion of rice per meal is 80g: using our practical dispenser you will have 6 portions per jar available.
Information
Baldo Integral rice is a rice type Lungo A, characterized by a very consistent, large and translucent grain. It was born in the 1970s from the cross between Arborio rice and the Stirpe 136 variety.
Usage tips
Our rice is a quality product, 100% made in Piedmont, and its nutritional values ​​make it a complete food rich in beneficial properties.
It is recommended to use it to create first courses, especially risottos, but also for other traditional recipes, such as supplì or arancini. Its excellent resistance to cooking makes it a rice also suitable for giving life to tasty rice salads.


Nutritional values
Nutritional values
*Average nutritional values ​​per 100g
Energy 365 kcal
Fat 1.9g
Carbs 77g
Protein 7.5g
Salt 0g
Packaging
Our rice is packaged in modern, designer packaging, but above all 100% plastic free, to respect the environment and reduce plastic waste. Glass jar with black label and cardboard cap with dispenser function give life to a practical package, as well as pleasing from an aesthetic point of view. Also perfect as a gift for a special occasion.

In addition to this, the measuring cap makes life in the kitchen easier, avoiding the use of weights, scales or other tools to measure the doses.

Finally, let's not forget the practicality of the packaging, which allows you to seal the rice impeccably and store it in the pantry without any risk of contamination.