The excellence of the territory
Piedmontese rice, worked in stone, for three generations in the Baraggia area.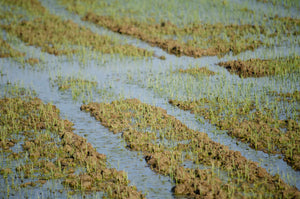 Cultivated in Piedmont
La Balocchina rice is processed in Piedmont, in the Baraggia Biella area. An area where the experience handed down for generations is combined with the most modern technologies and the optimal pedo-climatic conditions for cultivation.
This is the only way to obtain rice of the best quality , with excellent resistance to cooking and superior grain consistency.
Stone worked
The quality and characteristics of the rice vary greatly depending on the manufacturing process to which the grains are subjected, for this reason our rice is processed by skilled artisan hands in a family-run reuse factory.
After being selected and stored, the beans are processed by stone polishing and are thus ready for packaging, without the addition of preservatives or additives of any kind.
Sustainable rice
Once processing is complete, laBalocchina rice is packaged in plastic-free packaging.

In addition to the recyclable paper packaging, we have created an innovative pack: a practical glass tube, covered with a cardboard cap which also acts as a dispenser.
A container with modern lines, simple and at the same time captivating, but above all 100% plastic free .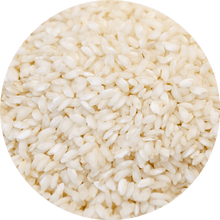 Carnaroli
Classic Carnaroli rice has a large, oval-shaped grain, it has an opalescent central pearl, which helps to absorb flavors and aromas during cooking thanks to its porous surface.
Apollo
Apollo rice is an aromatic white rice of great tradition, very versatile, used in the kitchen to make many different dishes. The shape of the grain is elongated and represents the national alternative to the exotic Basmati and Thai rice.
Bold
Baldo rice is characterized by a very consistent, large and translucent grain. It was born in the 1970s from the cross between Arborio rice and the Stirpe 13 variety and keeps cooking particularly well.
Integral Baldo
Baldo brown rice, thanks to its limited processing, is rich in fiber and beneficial properties. It contains both the bran and the germ of the grain, which help to maintain all the most nutritious parts of the rice.

Love for the territory, at the service of the best quality.