Our history
A story with solid roots, entirely Made in Italy. La Balocchina is a historic estate located in the territory of Baraggia, an area in Piedmont where rice has been grown since 1500.
In 1930 the estate's rice production began, now in its third generation. It was only in 2021 that LaBalocchina decided to enter the international market and export the quality of 100% Italian rice grown in Piedmont all over the world, the first rice packaged without the use of
plastic.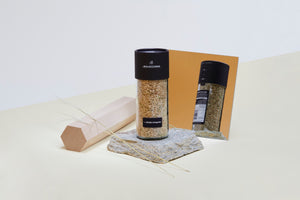 Our mission
We work every day to become the point of reference for the Italian rice and its derivatives sector, with a strong focus on quality and sustainability.
Our vision
Giving life to the first 100% sustainable rice , worked with respect for the territory and packaged without the use of plastic.
SUSTAINABILITY
The first 100% plastic free rice
We have invested in the research and production of a series of 100% plastic free packaging, with modern and design lines, which reduce waste and can be reused indefinitely.
TERRITORY
Rice grown in Piedmont
The territory of the Baraggia and the areas of Biella offer the optimal pedo-climatic conditions for the cultivation of rice. Not surprisingly, Piedmontese rice is recognized worldwide as one of the best Italian rice.
MADE IN ITALY
As a synonym of quality
We believe in Made in Italy as a synonym of quality. LaBalocchina rice is processed entirely in Piedmont, it is a rice rich in nutritional values and beneficial properties, to satisfy your every need at the table.